10 participants qualified in 'Recite & Elevate' competition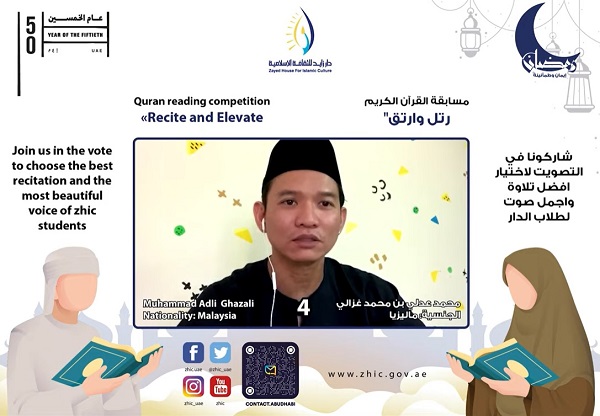 As part of its Ramadan program 'Ramadan: Safety & Tranquility', Zayed House for Islamic Culture (ZHIC) brought to a close its Qur'an competition 'Recite & Elevate' held for multinational new reverts of 75 participants enrolled in ZHIC courses.
Because of the current situation necessitating precautionary measures as per the government decisions for social distancing, the competition came virtual as contestants sent Qur'an recitation clips to ZHIC competent committee. Which uploaded 10 clips of recitations on ZHIC YouTube channel so that community members and interested persons vote for the top reciter. Out of the 1754 viewers, 479 engaged in the voting process that brought student Husham S. from Uganda to the top to receive one of the valuable awards allocated by ZHIC to incentivize and encourage winners.