Eid Congratulatory Walls in Various Languages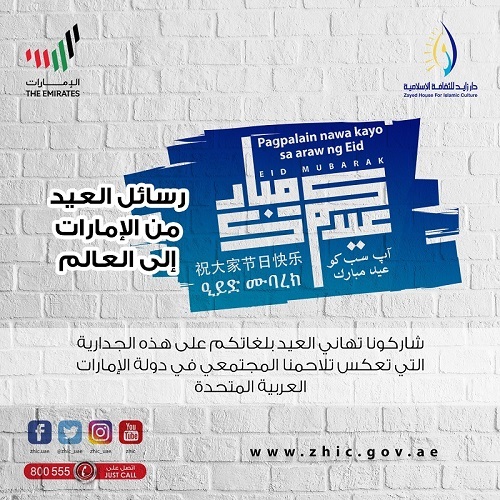 As Eid al Adha is around the corner, Zayed House for Islamic Culture (ZHIC) launched a virtual platform to send congratulatory messages under the title 'Eid Messages From The UAE To The Word'. The platform will enable the community to send congratulatory messages and blessings in a number of languages of the world. The aim behind the initiative was to highlight the unique UAE cultural diversity and community cohesion. Especially as there are more than 200 nationalities in the UAE living in harmony, love and tolerance together. The event in its virtual form could also reflect the community abidance with the precautionary measures to curb the outbreak of COVID-19.
In this regard, Dr. Neal al Tinaiji, ZHIC General Director, related that 'in such exceptional circumstances, ZHIC launched the virtual walls initiative in conjunction with our wise leadership directives on precautionary measures and social distancing so that locals and residents alike can send Eid congratulatory messages in various languages to their families and friends all over the world.